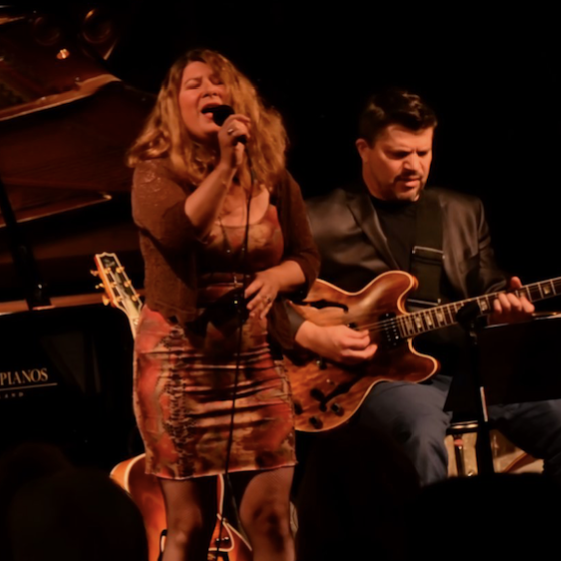 BIO
Born in Los Angeles to a singer/songwriter and a jazz drummer Anandi was raised in Portland, Boulder, the Bay Area and New York eventually ending up in Nova Scotia where she studied vocal jazz performance at St. Francis Xavier University.  After a stint working at Rounder Records in Boston and singing her original songs around Boston and New York City she moved back to Portland after bearing 'live' witness to the 9/11 attacks in downtown New York City.
After releasing three independent albums of original songs, she turned her attention to jazz, singing classic standards, inspired by the likes of Sarah Vaughn, Nancy Wilson, and Carmen McCrae.  She became a well-respected jazz singer in a jazz town, singing at venues like the legendary Jimmy Mack's, the 1905, the Jack London Revue and the PDX Jazz Festival.  During this time, she released three jazz albums, all the while working as a music teacher and a yoga and meditation instructor while managing her boutique store, Karuna Contemplative Living.
Meanwhile, her original songs continued to attract interest.  One of her songs, "Enough Of You", was used as background music on several YouTube videos, totally over 3 million hits.  Even as she developed her craft as a jazz artist her original songs continued to gain streams and fans, touching the hearts of many.
The result of Anandi's upcoming album, A Better Way, is one of uncommon beauty and depth. Producer Greg Goebel's arrangements surround Anandi's clear and soulful voice in this collection of meaningful ballads, heartfelt anthems, passionate chants and contemplative soul.   Anandi's well-crafted songs contain a sense of wisdom and poetry rarely encountered in today's pop music and it is clear that she has been influenced by her life in yoga and meditation.  Except for a guest appearance by tenor saxophonist Adrian Baxter on an upbeat version of Jim Pepper's cult classic "Witchi-tai-to" there are only two creators on this album and the results are brilliant.
The title track, "A Better Way", speaks to homelessness, poverty and the need to uplift those who suffer; on "Truth, Peace & Solitude" she rouses us to bring balance to our body, mind & soul; "Mandela" praises a great leader and his vision.  Other songs, such as "Don't Go To Bed Angry", "Surrender To Me" and "Pleasure With The Pain" speak to the complexity of love relationships.
With a name that means 'bliss' in Sanskrit one could easily infer that Anandi's music would conjure up sounds and images of sleepy mellowness.  But this isn't "New Age" music.  Anandi's songs have a strong sense of wakefulness, with poignant lyricism and melodic sophistication that invite multiple listens and sharing. A Better Way releases October 28th, 2022.
Anandi regularly performs with Internationally acclaimed guitarist John Stowell. Never settling into a musical box, Anandi is always collaborating with others; projects include PDX's All Female Jazz Quartet, Nica's Dream, the original acoustic trio Maiden Oregon and Retro Soul group AM Sister Soul. She also keeps a busy schedule teaching voice, guitar and piano.
 
Anandi YouTube channel: https://www.youtube.com/channel/UCvfwl1PNGG5pyEakVud79hg